About The Authors
Nigel and Jenny Chapman's textbooks and related Web sites are used by students, lecturers and professionals in almost all the countries of the world. We are committed to a fully international service, and try to ensure that all our material is suited to the requirements of the different cultures and countries using our books for teaching and learning.
Between us we have many years experience of teaching at universities and art college and – importantly – we also have many years professional practical experience of the subjects we write about, in which we remain actively engaged.
We are currently based in the West Highlands of Scotland — a remote coastal area in the north-west of the United Kingdom. Brief CVs for each of us are given below.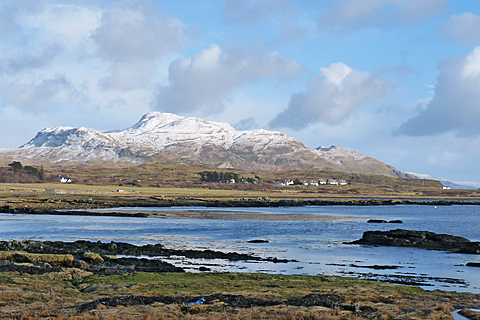 Nigel Chapman
Dr. Nigel Chapman is an internationally respected author of major textbooks and professional books on Web design, digital media and programming languages, and is a Web and multimedia applications developer and Web designer.
A graduate of Cambridge University, Nigel Chapman has taught and studied at several of the world's best universities. Nigel was a Lecturer then Senior Lecturer in Computer Science at University College London for 11 years, and a Lecturer in Computing Science at the University of St. Andrews (Scotland) for 3 years. He has the following formal academic qualifications:
Ph.D. in Computational Science, The University of Leeds
Postgraduate Diploma in Computer Science, University of Cambridge (Clare College)
M.A. converted from B.A. (Hons) in Engineering, University of Cambridge (Clare College)
Jenny Chapman
View Jenny Chapman's profile on LinkedIn.
Jenny Chapman is an award-winning animator/multimedia filmmaker and artist, co-author and illustrator of our textbooks on digital media and Web design, author of a popular trade book on Web animation, and a Web designer.
A graduate of both Leeds University and Edinburgh College of Art, Jenny was formerly a part-time Lecturer in Visual Communication at Edinburgh College of Art, specializing in teaching new media animation and applications such as Photoshop, Flash and video editing programs. Earlier she taught Art History and Theory while doing postgraduate research at the University of St. Andrews, and worked for 5 years in an academic-related post at University College London, typesetting and publishing academic and research publications. She has the following formal academic qualifications:
M.Des. in Visual Communication, Edinburgh College of Art
B.A. (Hons) in Visual Communication, Edinburgh College of Art
B.A. (Hons) in Philosophy and the History of Art, The University of Leeds