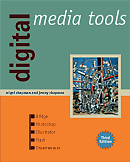 See the book at amazon.co.uk or amazon.com
Related Books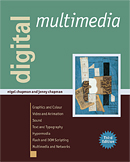 See Digital Multimedia at amazon.co.uk or amazon.com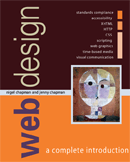 See Web Design: A Complete Introduction at amazon.co.uk or amazon.com
All material on this site is ©2007–2010 MacAvon Media and may not be reproduced without permission.
Web Design: A Complete Introduction
Web Design: A Complete Introduction is an original and comprehensive introductory course text intended for anyone who is new to Web design and development. Aimed primarily at college courses, it is used by both computing and design departments as well as in new subject areas such as multimedia design. Its main chapters cover Web experiences, Web technology, markup, stylesheets, Web graphics, time-based media, DOM scripting, Web applications, Web accessibility, Web page design and Web site design. Every aspect of Web design and development is considered, from the technical to issues in visual design, and the book emphasizes the importance of both Web standards and designing for accessibility throughout. A full set of keypoints and exercises are provided for every chapter, and extensive teaching and learning material is available on the support site www.webdesignbook.org.
Chapters from Web Design: A Complete Introduction are available to buy in PDF format for download from the MacAvon Media Downloads Store.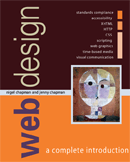 See the book at amazon.co.uk or amazon.com
Web Design: A Complete Introduction
Nigel Chapman and Jenny Chapman
ISBN-10: 0-470-06089-1 (PB), ISBN-13: 978-0-470-06089-6 (PB). xix+626pp.
Published by John Wiley & Sons, Ltd, 2006.
Visit the support site for Web Design: A Complete Introduction, where you can download a sampler containing short extracts from the main chapters of the book and request an evaluation copy.